Reduce, Reuse and Repair Grant: Accepting applications until September 16, 2019
The Manhattan Solid Waste Advisory Board (MSWAB), Citizens Committee for NYC, and Manhattan Borough President Gale Brewer invite community groups and individuals to apply for a grant to design and implement innovative projects that will help achieve New York City's waste prevention, reuse and repair goals. These projects should help the City of New York eventually reuse 100% of all waste that can be reused, repaired, refurbished, or salvaged for spare parts, and pioneer models that can be replicated throughout the City.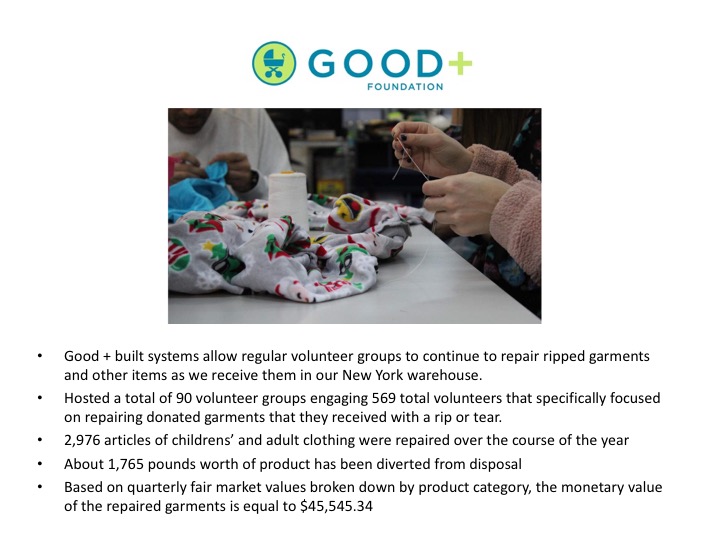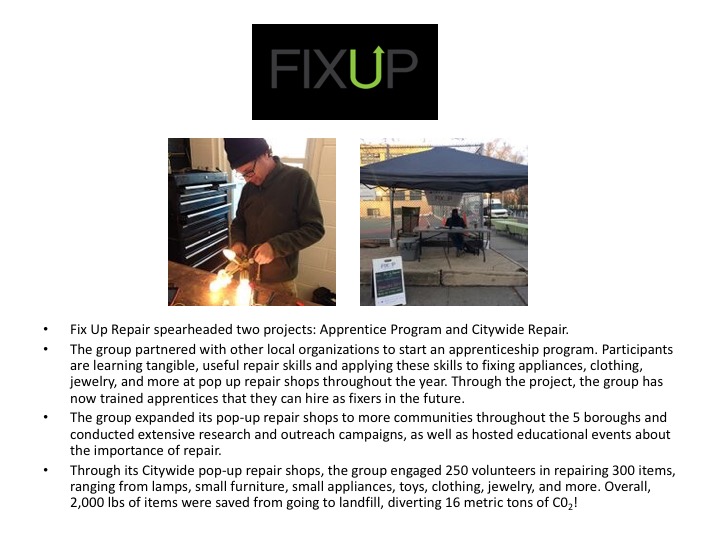 Grants of up to $2,000 will be awarded to start new reduce, reuse or repair projects, undertake related research projects, or initiate other activities which will help lead to replicable reduce, reuse or repair models in all five boroughs of New York City.
Since 2017, 33 grants for $50,576 have been awarded for reduce, reuse and repair projects in New York City. Check out the gallery to view several previous projects.
APPLICATION INSTRUCTIONS
STEP 1: READ THE INSTRUCTIONS AND ELIGIBILITY REQUIREMENTS DOCUMENT
Proposals must be completed and submitted by 11:59pm, September 16, 2019. Eligible groups include community and neighborhood associations, individuals, non-profits, for-profit small businesses, schools, and professors, researchers, and student groups at education institutions. Projects must be located within any of the five boroughs of New York City.
Instructions and Eligibility Requirements
For more information, please attend an optional information session. Contact Carla Naomi at crodriguez@citizensnyc.org or 212.822.9579 to RSVP and find more information about the location.
August 21. 11 AM - 1 PM. Manhattan

August 22. 12 PM-1:30 PM. Webinar

September date and time TBD. Manhattan.
STEP 2: COMPLETE THE APPLICATION
The application can be accessed in two ways.
Access the online application by clicking here. It is the preferred method for receiving applications. Note that you are able to save your progress and resume the application later.
Contact Citizens Committee if you experience any issues with the application.
STEP 3: SUBMIT THE APPLICATION
Online applications can be submitted upon answering all questions.
PDF / Word applications can be submitted via email to Carla Naomi at crodriguez@citizensnyc.org or by fax to (212) 989-0983 or mailed to: Attn: Carla Naomi, 77 Water Street, Suite 202, New York, New York, 10005.
STEP 4: SHARE THIS OPPORTUNITY!
Please share information about this grant with your community! If you know a grassroots group, school, college, researcher or small business that has a plan to keep items out of New York's waste stream and would benefit from the grant, let them know about this opportunity! You can also download and distribute this flyer.
The Reduce, Reuse and Repair grant is designed by the Waste Prevention and Reuse Committee of the Manhattan SWAB. All meetings are open to the public.